We provide a full range of landscape services from landscape design and build, landscape construction, pure landscape architecture, landscape project management, horticultural advisory services, and landscape material procurement. Whatever your landscape requirements are, Bali Landscape Company can provide all of your garden and landscaping services in a timely and seamless manner. We want your next garden or landscaping to be an easy and uncomplicated process.
Landscape Design
D

esign and Build landscape projects
where budget and construction are based primarily on master plan layout with limited detail drawings. This service suits villas and home landscapes where clients require a basic master plan, plant photo references for specie types and a lump sum budget of items for the landscape; but don't require the longer or detailed process of landscape architectural design. This is a fast way to do landscape construction for people who want to quickly move on with the landscape project and need limited details. Such a process is usually adequate for builders to work with Bali Landscape Company to get your villa garden design, planted and finished in a short time with only a minimum of landscape structure, (focus on planting soft-scape).
L

andscape Architectural services
; this is the complete architectural process for
landscape design
. This is from concept, detailed working drawings, including site and building elevations, 3D visuals of what the garden will look like and finishing with plant-scape design and Bill of Quantities (BQ). This service is for the very detailed homeowner who enjoys the specifics of the design process or for hotels and resorts that will put the landscape construction to tender. Landscape architectural service is now more widely used by our international clients who want a Bali styled garden or who require our landscape design talent overseas. As a boutique firm we like to have a limited workbook at any one time so we can focus creatively without having to take on too many projects at a given time. Currently the design department consists of 2 creative directors, 4 architects, 2 graphic designers and a small administrative and accounting team. This is assisted with one project architect and 2 field supervisors.
Landscape construction
Our landscape construction team consists of nearly 30 staff separated into three divisions:
P
re-construction services are for land clearing, site clean up, rubbish removal and import of new soils and leveling. The placement of large items that might not have access to the site at later stages, (big statues, advanced trees and shrubs etc).
T
he construction division focuses on the in-field/on-site creative element of the landscape construction and undertakes the hard-scape building of structures in the landscape such as ponds, pools, bales/pergolas, retaining walls, pathways etc, all elements of the pre-construction process. This division is also responsible for planting of advanced trees, all small plants and groundcovers, positioning of natural stones, artwork, pots and other features up until the client hand over.
P
ost-construction maintenance department is responsible for landscape construction projects from the time of client handover and for a 3 month period post-construction during the retention period. Bali Landscape Company does this to ensure that ample time is given for the project owner's staff to learn how to maintain the garden to our design requirements as a transition training period. During this time we also replace all plants on guarantee that for unforeseen circumstances may not do well at that time.
Project Management
E
xperienced site architects with the assistance of our specialist accounting and administration team, are well versed in landscape construction projects, handle landscape Project Management of projects up to 2 million U.S.dollars. These are usually resort projects on properties exceeding 10,000 square metres. Large scale projects require both detailed execution and planning to ensure multiple trades/site contractors work professionally together and to project time frames and scheduling. The Project Management team also details, reviews and provides budget analysis for large scale landscape projects. This is critically important where some larger projects may use more than one landscape contractor to implement a single project.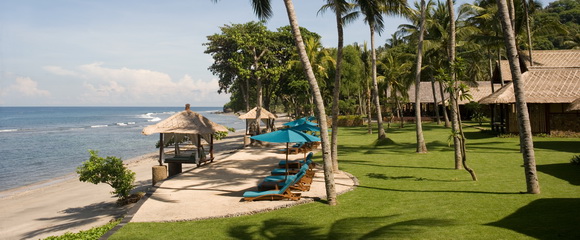 Material procurement
Bali Landscape Company has an extensive network of established suppliers and subcontractors whom we have worked with for 5 years in Bali and Java. Wherever you are in Asia, Middle East or Europe, we can assist in procurement of materials, art work, pots, landscape supplies for softscape needs, (plants and trees), all of which can be shipped to your landscape project. Limitations on plant materials are limited to distance and country by country quarantine laws. Procurement items may be garden statues, art work, pots, natural stone for pools and water falls, garden and decorative lighting, garden furniture etc.
Horticultural advisory services
Indonesia has a fledgling horticultural industry as does most of South East Asia. As the cost of living increases in many countries, so does the cost of plants and garden materials. Gardens are now more expensive and need to be maintained properly to save money and increase value to homes and villas. Expert horticultural advice is another service of Bali Landscape Company. Whether your grass is sickly or your palm trees are suffering from beetle infestation, or your plants aren't flowering, our team can give you expert advise on what to do to remedy your garden issues.